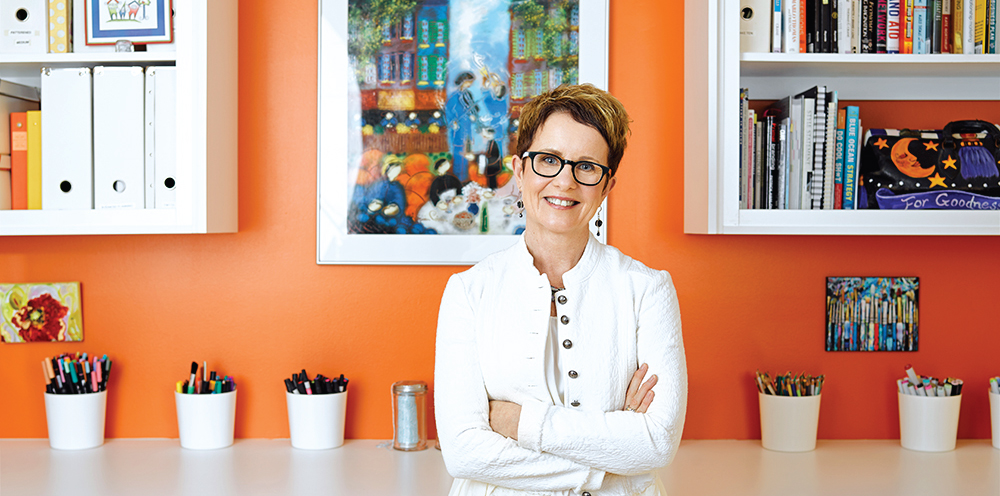 WHEN I WAS 10, I BECAME A SALES REP. Yup, I sold Regal products. I won the prize for highest sales. Then, they found out I was only 10. A box of pencils (instead of the cash prize) arrived in the mail with my name engraved in gold on them. Life was – golden!
In high school my sister and I competed (sort of fiercely) for selling the most tickets for any high school fundraiser. With hearts on our sleeves, we would accost people in the mall, passionately telling them why they just had to, just had to, buy a ticket. Did you know that men wearing red sport team jackets, with beards, bought the most tickets?
I was born to market. The story co. is my company and I am head over heels in love with it.
Thankfully since then, my marketing analytical skills are more advanced and my brand stories, not quite so desperate. I have devoted over 20 years to studying and understanding marketing and branding and learning how we can do it better. I have learned a few things not only about what people want but why do they want, what they want. Why people buy, why they don't. Why people emotionally connect to some brands and not to others. Why some great products take off and equally interesting, why some great products don't.
A formal education, a strong track record in our business and volunteer community, have been essential to my success.
BUT NOTHING TRUMPS LEARNING LIKE DOING.
The first brand I built, was also the most personal (as the first usually is). Starstruck, was a line of women's clothing that was sold in 321 stores in the U.S and 120 in Canada – now that is a story! – read more about it here.
The fashion industry shreds brands for breakfast, that can't move at a lightening fast pace, with the right products, at the right price, and in the right colour! Thriving in this fast paced industry reinforced the stealth like accuracy you need to be a brand builder. Turns out I had a knack for it.
For the past 10 years I have been the co-founder of imagine marketing inc. We worked with the big and the small and a best selling children's authour (a great story – with pictures! check it out here) Imagine, was a great ride and powered my desire to start the Story co and help businesses live their story, and love their brands in a very concrete way.
My husband still makes my heart leap, my kids make my heart sing, and Duke the dog, well I have got big love for him too! I've ridden my bike from Vancouver to California, count Eloise in Paris as one of my favourite stories and still have the box of pencils.
Mine, is a tale of grit, giggles, moments of grace, triumphs and fails, and I couldn't be happier.
THIS IS MY STORY. CAN I TELL YOURS?

WHEN PATHS ARE MEANT TO CROSS – they cross! Janet and Kelly crossed paths as exhibitors at the One of a Kind show in Toronto. That was over 10 years ago! Since then they have put their creative minds together on countless projects that they are both a wee bit proud of. They laugh at each others jokes (when no one else will), cheer each other on, share a desire to make the world a prettier place  and think its pretty nifty to be able to work together. We think you will too.

Pre Y2K, I kick started my design career working for a groovy start-up with big dreams and a team of amazing young entrepreneurs (who toiled the day away in a crammed apartment with only one toilet…not joking…it was the best :).
But then we were acquired by a software giant which I won't name, but rhymes with mun picrosystems. Quickly the corporate 'man' took all the fun out of design and I was left writing time sheets, attending boring 'critical path' meetings and wondering how I got 'here'.
In 2003, I co-founded Kanvas Ink., a graphic design house specializing in brand identity and Flash website creation. We developed some really cool projects for clients ranging from Rogers Wireless big wigs to small, but by no means insignificant, one person start-ups.
We also created a line of quirky greeting cards that were featured in 8 national magazines including Style at Home, Chatelaine and Lou Lou.
In 2006 I was in need of a fresh new take on life, so I packed up my hubby, big dog & scary doll collection and headed off into the sunset a la green acres style. Branching out on my own, Freshly Hatched Design Boutique was conceptualized to expand my creative passion. Specializing in gorgeous brand identities and kick ass website design, I somehow popped out two kids (I know right?), and dived into writing YA (young adult) stories in my free time (meaning I stay up super late and fangirl like a nerd when my family is sleeping).
Carving my own unique design path was the perfect solution to re-fresh my creative perspective. Everyday I sit in my little office and marvel at how I got 'here'…the best job in the world.